Purpose of UCSC Basic Needs Website
Whether you're a new student or returning banana slug, the UCSC Food Access & Basic Needs Team is here to support your basic needs and wellness. College can be a challenging time; access to affordable and healthy food, stable housing, and comprehensive mental health resources should not be an additional stressor. This website serves as an online hub for information on food, housing, health & wellness, and financial security resources, both on-campus at UCSC and off-campus in the greater Santa Cruz community.
In addition to providing resource information and immediate crisis support, we seek to connect students with ways to get involved through internship and volunteer opportunities with campus and community organizations. Thank you for visiting - we seek to continually update this site based on your feedback and recommendations.
This website is focused on student-centered resources. If you are a UCSC staff or faculty member looking for resources and support, please visit the Employee Assistance Program (EAP) website.
What is Basic Needs Security?
Basic Needs Security refers to access to resources one needs in order to thrive. 
Our UC Basic Needs village defines Basic Needs as an ecosystem that supports financial stability by ensuring equitable access to nutritious and sufficient food; safe, secure, and adequate housing (to sleep, study, cook, and shower); healthcare to promote sustained mental and physical well-being; affordable transportation; resources for personal hygiene care; and emergency needs for students with dependents.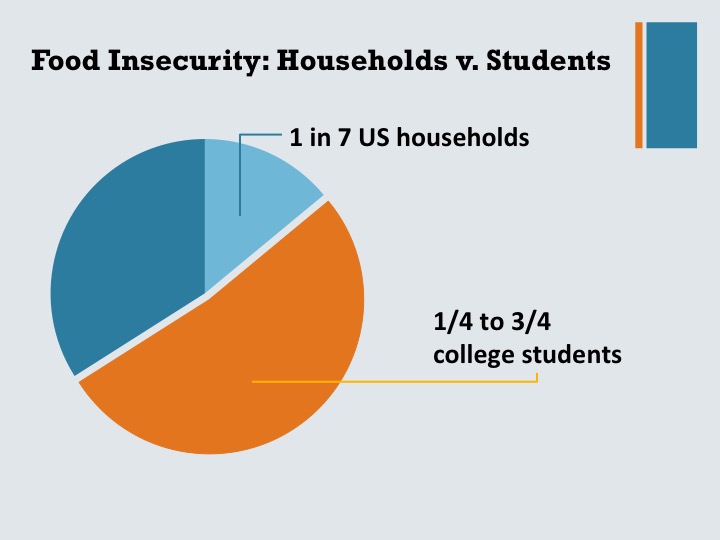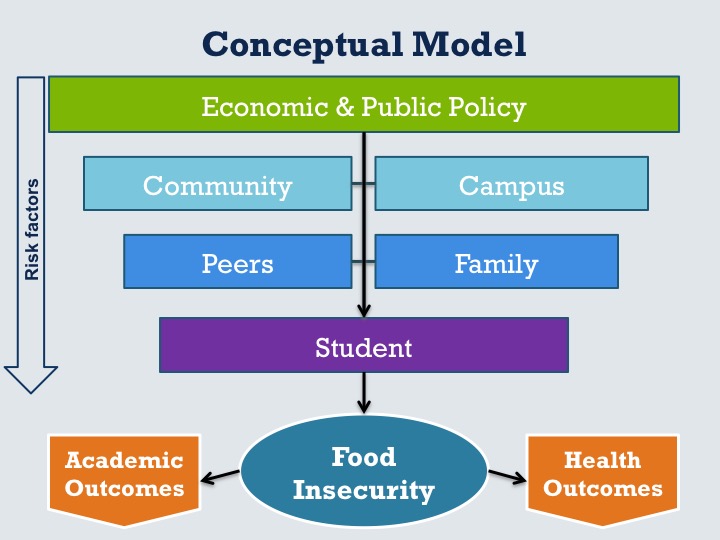 (Lorrene Ritchie, "Student Food Insecurity: What Do We Know?" UC Agricultural and Natural Resources)

Though our UCSC Basic Needs working group began with a food security focus, we recognized that the conversation needed to shift toward a comprehensive basic needs framework; these systemic issues require solutions targeting the root of the problem. With this in mind, we envision a future where hunger is not a normalized part of the college experience and where food pantries are no longer necessary. While we work toward this vision, we hope to alleviate some of the immediate burden through strong emergency relief and crisis intervention services, as well as peer-led programs to spread awareness of rights and resources. 

---
What campus entities comprise the UCSC Basic Needs Team?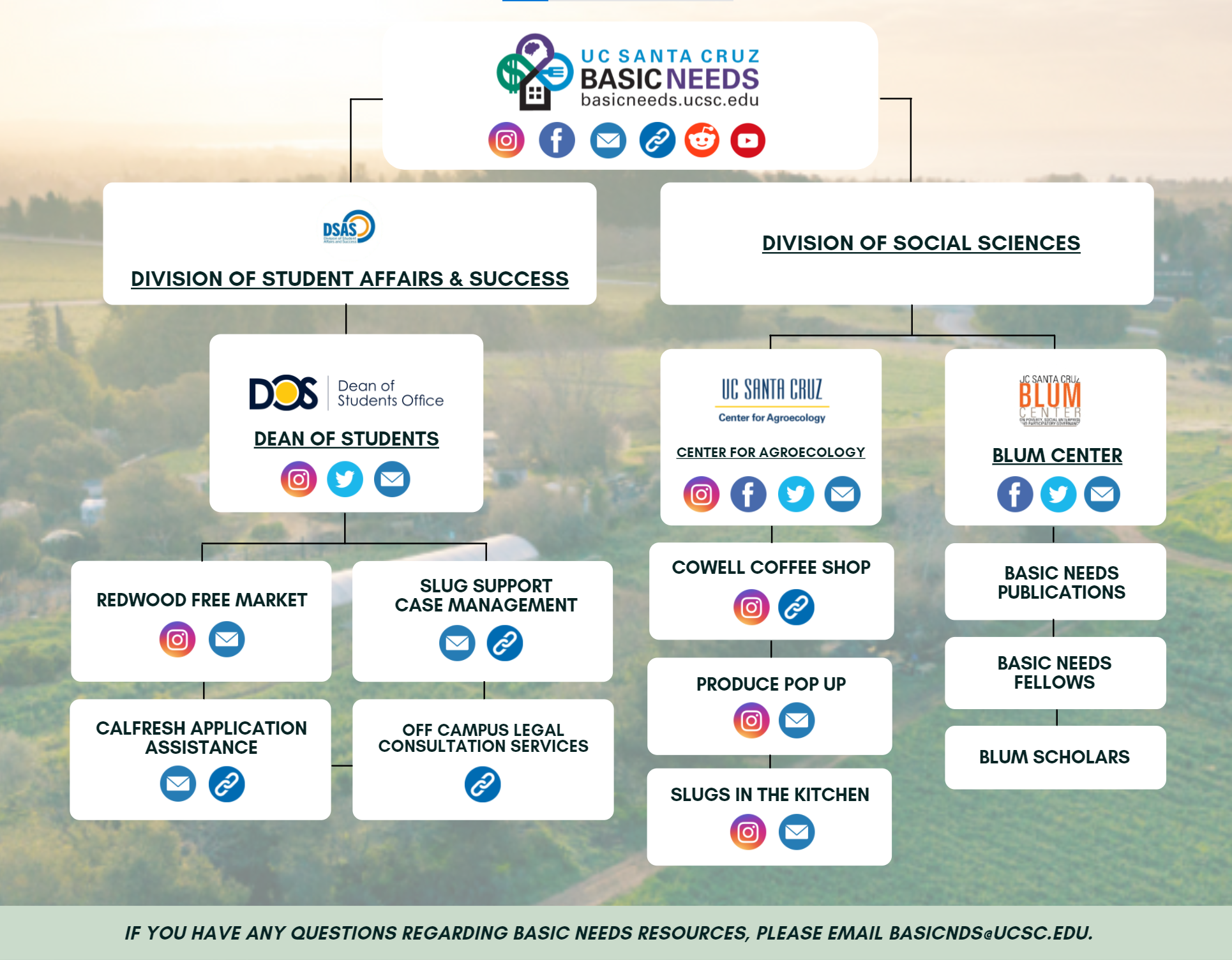 The above diagram outlines the Basic Needs organizational structure with programs in each division. Click the image to access all links including organization websites and social media.
Division of Student Affairs & Success
Dean of Students
Instagram | Twitter
We provide a myriad of services, programs and experiences for students and strive to complement their academic experience with programs that promote wellness, identity development, cultural fluency, leadership development, academic success, and volunteerism.



CalFresh Application Assistance
Instagram
We provide appointments for 

one-on-one conversations with a CalFresh Navigator from Second Harvest Food Bank. 

Navigators give you a rundown of the program and assist you with the application process.




Redwood Free Market
Instagram
We provide students with fresh produce, premade food items, and non-perishable pantry staples in partnership with CASFS, Cowell Coffee Shop, and Second Harvest Food Bank.


Slug Support Case Management
We promote early intervention with students of concern to prevent culminating problems from escalating into a crisis and help identify students of concern to develop an action plan focusing on retention through provision of support and resources.


Off Campus Legal Consultation Services
We

provide students with access to free legal consultation services related to off-campus, non-UCSC housing issues. If you need help understanding your lease agreement or are experiencing a dispute with a landlord, Off-Campus Legal Consultation Services is available to you through McManis Law. 



Division of Social Sciences
Center for Agroecology
Instagram | Facebook
We are a research, education, and public service organization dedicated to advancing an ecologically sustainable and socially just food system.



Cowell Coffee Shop
Instagram | Facebook
We are a non-transactional café designed to increase student food access. During Covid, we make semi-prepared meal kits from scratch to distribute independently on a monthly basis and regularly partner with Slug Support Pantry, who is distributing out of the Cowell Coffee Shop.


Produce Pop Up
Instagram | Facebook
We provide fresh produce from the CASFS Farm at an affordable price to students, staff, and the UCSC Community. During COVID, we distribute free produce boxes sourced from the Santa Cruz Farmers Market on and off-campus on a weekly basis.


Slugs In The Kitchen
Instagram
We strive to foster a sense of community and learning around kitchen spaces and students' role in the broader food system through peer-to-peer workshop programs where instruction is designed to inspire confidence, fun, and creativity by empowering students to cook healthy, dynamic meals.



Blum Center
Instagram | Facebook
We use community-engaged research to bring together students, faculty, nonprofit leaders, and key stakeholders to promote economic equity, and expand access to affordable, high quality housing and food.



Basic Needs Fellows


Blum Scholars